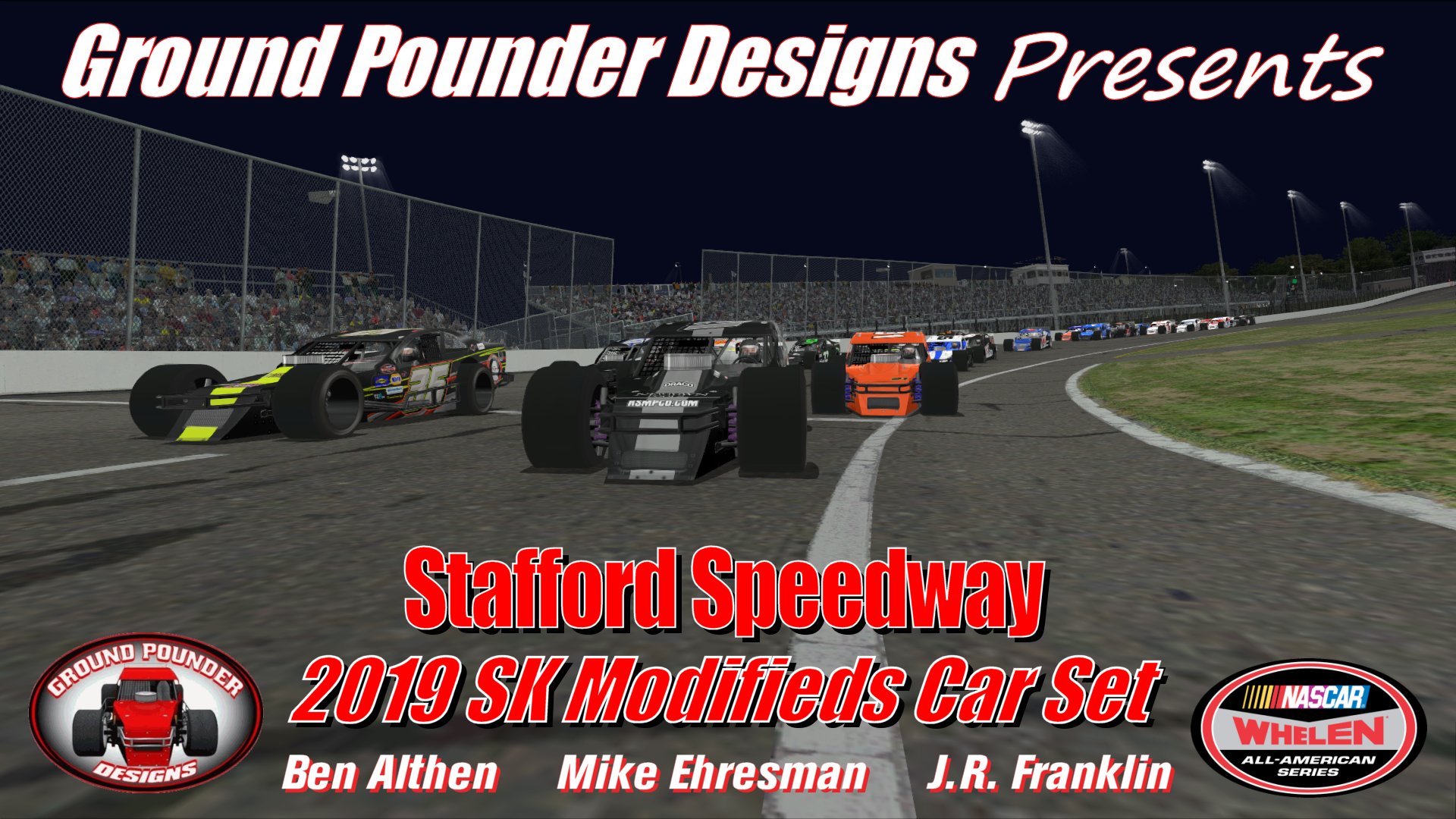 The Ground Pounder Designs team is pleased to present... the
2019 Stafford
Speedway
SK Modifieds Car Set
for the NR2003 SiModified SK Mod. This extensive set features all of the following:
· 29 total Modifieds representing the top 28 drivers and schemes that competed in the 2019 Stafford Speedway NASCAR Whelen All-American Series Race Season, including...
· 2019 Stafford SK Modified Repeat Champion, Ronnie Williams, with 5 wins, 13 top 5 and 18 top-10 finishes on the season.
· 2019 SK Modifieds Points Runner-up, Todd Owen with 4 wins.
· Authentic recreations of the real life 2019 Stafford Speedway SK Modified paint schemes down to every meticulous detail.
· Authentic matching pit crews.
· Realistic 2019 year-end performance ratings on cars via the NRatings program using the MasGrafx GNS Full Season V3.1 formulas.
Download here
:
www.nr2k3tracks.com/GPD/2019_Stafford_SK_Carset_GPD.rar
Enjoy racing these incredible NASCAR Whelen All-American Series SK Modifieds of Stafford Speedway. For the ultimate racing experience be on the lookout for the release the awesome new Stafford Speedway tracks from PROJECT: Short Track and see how you can fair against the best of the SK Modified ranks at Stafford!
All from your friends at
GPD... your
"One Stop Shop" for Modifieds for NR2003!
The Ground Pounder Designs Team:
Ben Althen - GPD Painter
Mike Ehresman - GPD Painter
J.R. Franklin - Car Ratings and Set Coordination.
Additional Credits:
· SK Mod by SiModified. Get the mod here:
www.nr2k3tracks.com/GPD/SK_Mod.rar
· Contingency decals by Alan Harkleroad
· Photo References: YankeeRacer.com, Facebook Mod Squad Radio Show, Jim Dupont Photos, Michael Jaworecki-MyRaceNews, Speed51.com, Ayers Racing Images, Brenda Jane Photography, Crystal Snape, and a host of others too numerous to list.
Facebook Page: facebook.com/GroundPounderDesigns